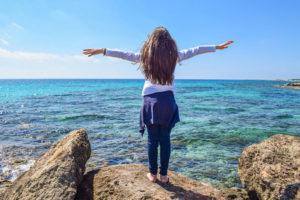 When one or more of the many body systems responsible for balance are not functioning well, you may experience dizziness or imbalance. If you are feeling dizzy, you are not alone. It is estimated that at least half of the population of the United States will be affected by dizziness or balance problems during their lifetime.
Symptoms of Balance Problems
The term dizziness is a vague word that can describe many different symptoms. Symptoms of dizziness or balance problems can include:
An illusion or sensation of motion (vertigo)

Spinning sensation
Impaired perception of one's stationary environment
Sense of falling

Feeling off-balance or unsteady (disequilibrium)

Recurrent tendency to stumble or fall
Feeling clumsy or unsteady on one's feet

Decreased visual clarity associated with head movement (blurred vision)
Feeling disconnected from the environment (disorientation)
Feeling of faintness or lightheadedness
As you can imagine, individuals with chronic dizziness or imbalance can experience a tremendous handicap in their daily lives. Dizziness affects people in all age groups but is most prevalent in the elderly.
Causes of Balance Problems
Balance problems can be caused by several different conditions.  The cause of balance problems is usually related to the specific sign or symptom.
Vertigo can be associated with many conditions including:
Benign paroxysmal positional vertigo (BPPV)
Meniere's disease
Migraines
Acoustic neuroma
Vestibular neuritis
Ramsay Hunt syndrome
Head injury
Motion sickness
Imbalance or unsteadiness can be caused by:
Vestibular problems
Peripheral neuropathy
Muscle weakness
Medications
Certain neurologic conditions
Lightheadedness can be associated with:
Orthostatic hypotension
Cardiovascular disease
Other causes of dizziness can result from:
Inner ear problems
Psychiatric disorders
Hyperventilation
Medications
Talk with Your Physician
If you are feeling dizzy, discuss your symptoms with your physician. If your dizziness persists, your physician may refer you to an ear, nose and throat physician or audiologist for a comprehensive evaluation of your dizziness.
Call Watauga Hearing at (423) 928-1901 for more information or to schedule an appointment.